SZLH 420 Poultry Mash Feed Mill Machinery for sale
2020-02-21 Back to List
If you are looking for related products or have any other questions, please feel free to contact us.
Contact Us
Many farms now use feed pellet machines to feed poultry. First let's talk about the benefits of SZLH 420 poultry feed making machine:
1. The pellet feed processed by feed pellets has a certain hardness, and the time for chewing poultry has been extended, so that the digestion problems of cattle and sheep have been greatly improved.
2. Color. Because the pellet machine is pressed, there will be a little warming, and the pelleted pellets will be shiny and look good.
3. Taste. The usual powder is scent-free. The feed pellets are pressed, and because of the heating, there is a faint grass fragrance.
4. Mixed granulation. The feed pellet machine can also mix multiple materials into pellets. In this way, poultry, such as cattle and sheep, can't help picking food. Better distribution of nutrition.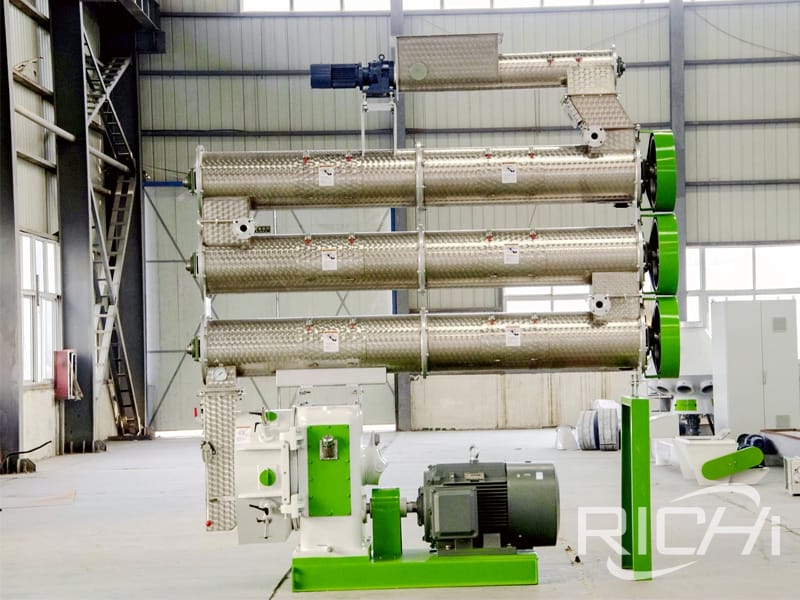 This SZLH 420 machine is the key equipment for 8-12 ton per hour poultry pellet feed production line. It has the characteristics of high output, good performance, low energy consumption, low noise, beautiful appearance, etc. It is an ideal equipment for suppressing pellet feed for poultry, livestock and fish. The feeding system of this machine adopts stepless variable speed motor control, which is convenient for speed adjustment, and can be equipped with a microcomputer automatic control system, which can automatically adjust the feeding amount and steam intake, so that the press is always in the best working state.
The main technical parameters of Richi Mchinery SZLH 420 poultry feed milling machine:
Capacity(TPH):8-12
Main Motor Power(kw):110
Feeder Motor Power(kw):1.5
Conditioner Power(kw):7.5
Dia.of Ring Die(mm):420
Final Pellet(mm):2~12