60-72t/h large-scale feed production line for sale
2020-01-02 Back to List
If you are looking for related products or have any other questions, please feel free to contact us.
Contact Us
Whether your feed mill is producing 60 tons, 61 tons, 62 tons, 63 tons, 65 tons, 68 tons, 70 tons, or 72 tons per hour, they are all in the range of 60-72t/h large feed production line.In fact, the meaning is: although these output in this range, the production process is basically the same, but the actual configuration of the crusher, granulator, cooler and other major equipment model, output, power and other specific parameters are different, of course, the number of equipment configuration is also different.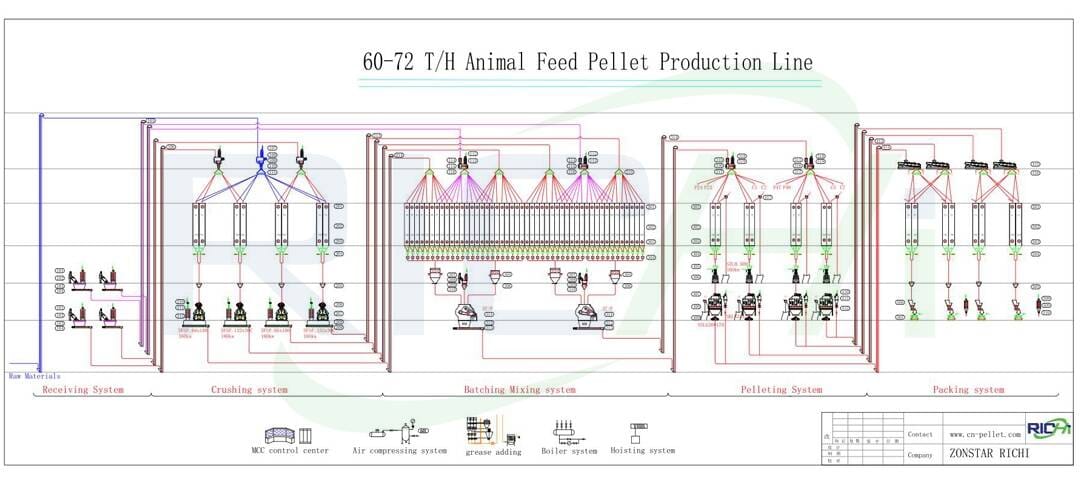 Richi designed a complete set of 80 tons of large feed production line, from the technology and the international high-grade livestock and poultry materials project, pay attention to safety and health.Richi SZLH series pellet mill machine adopts the combination of biaxial difference klystron and enhanced conditioning to make the material contact with steam more fully and the conditioning effect is good.
After pelleting, the domestic leading spraying technology is adopted to effectively supplement vitamin C, amino acid and other nutrients, reduce the impact of high-temperature granulation on feed nutrition, greatly improve feed nutritional quality, improve feed digestion and absorption rate, and reduce feed to meat ratio.The production site of feed pellet machine is controlled by computer with touch control screen, which is advanced, convenient and reliable.
The crushing system adopts Richi champion king series hammer mill, the maize coarse crushing yield increases by more than 30%.The grinding efficiency is greatly improved. The 60-72t/h production line can crush 350,000 tons of raw corn annually, which can reduce the power consumption by 30% and save about 300,000 yuan.The production line adopts advanced computer screen control system, accurate and safe, intuitive operation, production monitoring, and can reduce labor cost;The electrical control cabinet adopts imported components and programmable controller, which works stably.
Feed production and feed processing equipment are developing in the direction of high output and high power. China's feed production lines are generally above 20 tons per hour, while there are few production lines below 20 tons per hour. However, looking internationally, the development of the feed industry varies from country to country, and there are quite a few small feed production lines, such as 1-2 ton feed lines, 3-4 ton animal feed lines, 5 to 7 ton feed lines, 8 and 12 ton Feed production lines, etc.
Whether you belong to a small-scale animal feed line or a large-scale feed line, you are welcome to contact Richi Machinery, we will tailor-made the production of various feed production lines for you, and strive to win more production benefits for you!