What factors causing low output of feed pellet mill?
2019-12-23 Back to List
If you are looking for related products or have any other questions, please feel free to contact us.
Contact Us
Pellet milling is the most commonly used processing equipment in feed factories. Its output directly determines the production efficiency and productivity of feed factories. There are many factors affecting the output of feed processing equipment. In addition to equipment assembly, debugging, or maintenance in the operation process, there are mainly the following aspects.View all pellet machine products:www.cn-pellet.com/product/feed-pellet-machine/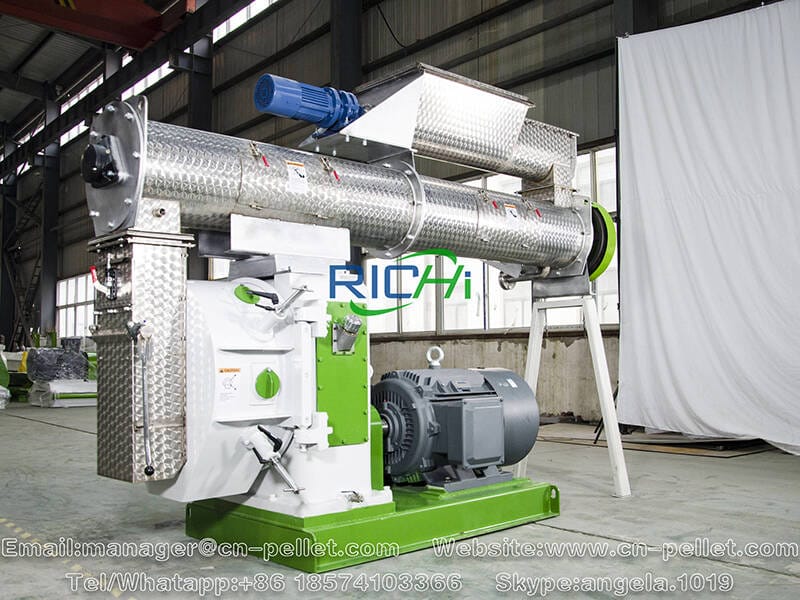 1. Ring die
The horn mouth of ring die surface is calendered, it need re-chamfer.
Improper selection of ring die compression ratio. The suitable compression ratio: livestock and poultry feed 9-13, fish feed 12-15, shrimp feed 20-25, heat-sensitive feed 5-9, forage grass and straw feed 6-9. The die hole is blocked. Clout the blocked hole from the outside to the inside of the ring die to remove impurities. The low opening rate of ring die leads to low output.
2. Roller
The roller shell is worn out and needs to be replaced in time.
The combination of new ring die and old roller, new roller and old ring die may result in low output. A new ring die with a new roller shell should be used for pelleting so that the contact clearance between roller and ring die is consistent to achieve uniform wear.
3. Conditioner blade
Blade wear may affect material conditioning, causing poor effect of material mixing and steam absorption. Material softening of conditioner is bad, affecting the particle pulverization rate and output.
4. Conditioning temperature
If the conditioning temperature is too low, the reasonable temperature should be controlled at: livestock and poultry feed 70-88℃; fish feed 82-95℃; shrimp feed 90-105℃; heat-sensitive feed 45-69℃.
5.Steam quality
The steam pressure of cylinder should be more than 0.6 Mpa, the steam pressure after decompression should be 0.1-0.3 Mpa, and the trap should work normally to ensure that the steam is saturated steam without condensation water.
How to solve the problem of low output of pellet machine?Which kind of feed pellet mill equipment can ensure high output?Welcome to consult Richi machinery online or by email!