Manufacturer price 300-400kg/h small animal poultry chicken feed pellet mill for sale
2021-01-20 Back to List
If you are looking for related products or have any other questions, please feel free to contact us.
Contact Us
Manufacturer price 300-400kg/h small animal grain feed pellet mill for poultry chicken feed production is also widely used in the animal husbandry industry in rabbits, ducks, geese, fish, pigs, aquatic products ect., large and medium-sized breeding plants,animal feed mills, and organic waste re-pelletization in brewing, sugar, paper, medicine, tobacco, and other industries. The small poultry chicken feed pellet maker machine for those small family farming use, also called homemade poultry chicken feed pellet mill or farm use small chicken fodder pelletizer machine,it is a farm feed pellet machinery used small pellet machine for to make the pellet in home.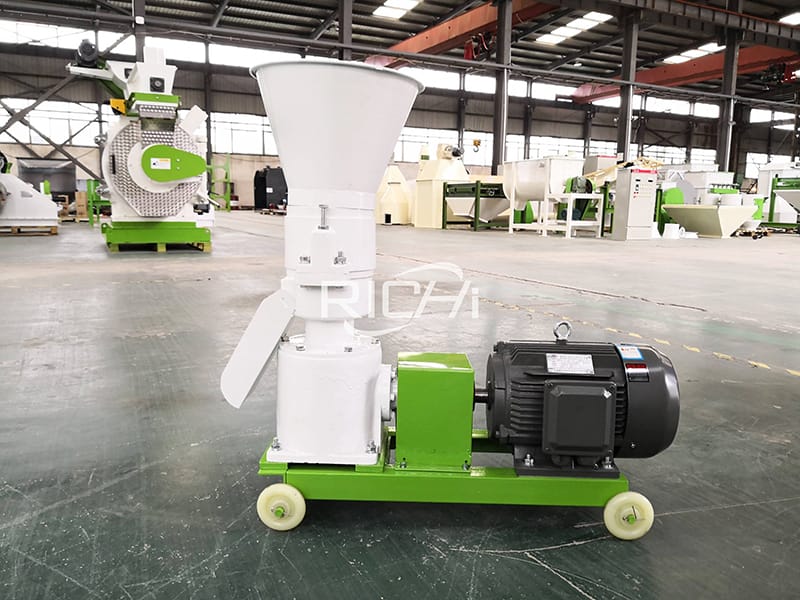 1.Introduction of factory price 300-400kg/h small electric flat die chicken feed pellet making machine
300-400kg/h small animal feed pellet milling machine to circular motion as the principle, main shaft and flat die under the effect of friction, the drive roller rotation, the material between the roller and the template of high-temperature gelatinization, clotting protein denaturation, under the roller extruding from the eduction in die hole, made of pellets are sent out with the left closed, adjustable pellets through incision length, template and press roller is made of high quality alloy steel after special treatment.
The hardness of the chicken feed can adjust through moving the cutter properly or changing the cutter. In addition, during the course of the feed grain mechanism, the fineness of crushing can improve, the effective length of the mold hole can increase, and molasses or grease can add if necessary.
Because of the relatively small capacity, 300-400kg/hour small automatic chicken feed making machine usually are used for home, small farm or small plants and workshops. The most popular and widely used small poultry making feeds machine for chicken feed is high efficiency electric animal poultry chicken food granulator since it has many advantages, including:
(1)They are easy to operate and maintain.
(2)They are movable, so you can use it wherever you want.
(3)They are economical to people because of their low price. you only need to invest a small sum of money in the electric small feed extruder processing machine.
(4)They are environmental friendly. You do not need to worry about pollution.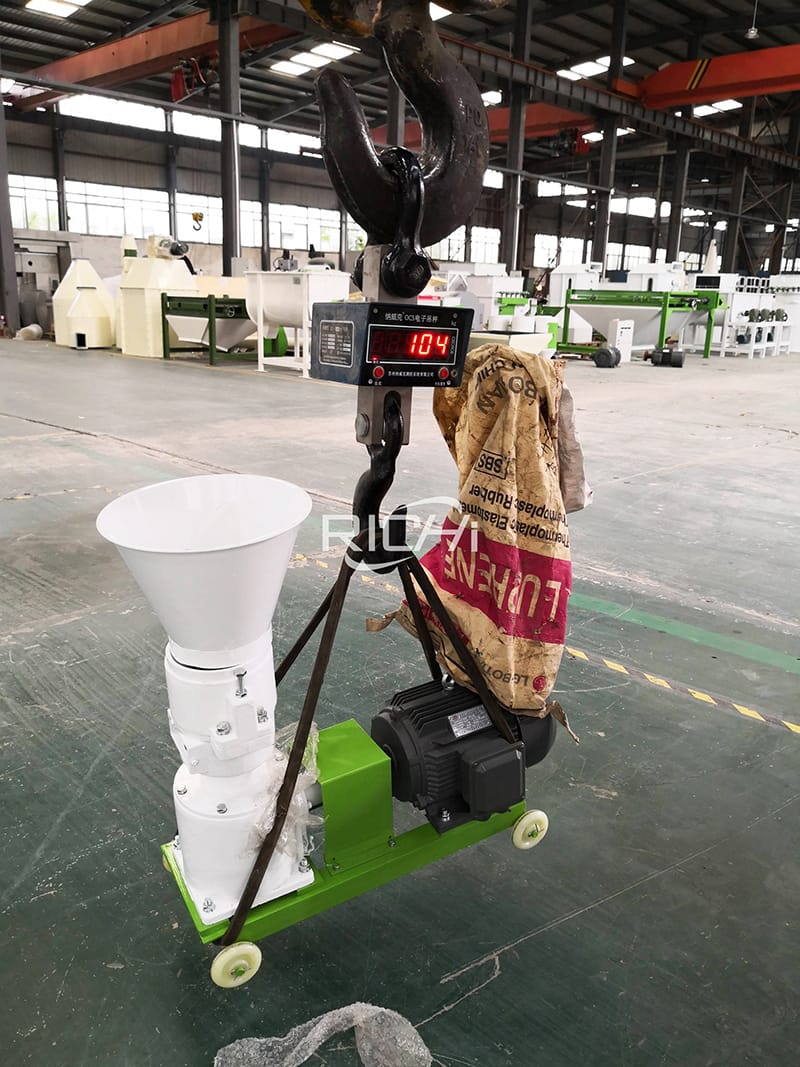 2.Structures of 300-400kg/h ce high quality small chicken feed pelletizer machine
(1)The main structure of the electric small scale chicken feed pelletizing machine including feeder, stirring, pelletizing, transmission and lubrication system.
(2)Feeder: It is composed of a speed-regulating motor, a reducer, a wringing dragon barrel, and a wringing dragon shaft.
(3)Conditioner: It is mainly composed of conditioning shaft, blade, barrel, reducer, and motor.
(4)Pressing Chamber: The main components of the flat die, two rollers, feed scraper, cutting knife, and die roller gap adjustment screw.
(5)Main Transmission Box: It is mainly composed of active gear, passive gear, spindle, empty shaft, box, and bearing.
3.Working principle of 300-400kg/h small chicken pellet feed processing machine for poultry
Chicken feed powder from hopper to the feeding ground dragon, by adjusting the infinitely adjustable-speed motor speed, to obtain the appropriate material flow, and then into the crusher, quenched and tempered by stirring rod agitation mix with steam, if you need to add molasses and grease, and join together with the steam from the agitator of the quenched and tempered (oil content is generally not more than 3%, otherwise difficult to granulating), after quenched and tempered. Then it enters the chute and passes through the iron removal device to remove the iron mixed in the matching powder, and finally enters the pressing chamber for pelleting.
The small chicken feed pelleting equipment in the chciken feed production process, do not need to add steam, low temperature. It can keep all kinds of coarse, fine and fine feeds as raw materials, select appropriate additives, after mix and stir evenly, and then pelletization.
4.China manufacturing price of 300-400kg/h poultry fodder machine chicken feed mill pellet mill machinery for small farm
RICHI 300-400kg/h small poultry feed pellet mill equipment price is usually between 1000USD-1500USD.
| | | | | |
| --- | --- | --- | --- | --- |
| Model | Capacity(kg/h) | Power(kw) | Pellet size(mm) | MOQ |
| FDF-210 | 200-300 | 7.5 | 2-6 | 1 set |
| FDF-230 | 350-450 | 11 | 2-6 | 1 set |
| FDF-260 | 400-500 | 15 | 2-6 | 1 set |
【Knowledge sharing:Tips for commercial chicken farming】
Chicken is by far the most popular poultry species utilised by farmers for both meat and egg production. Chicken meat consumption has replaced beef as the primary meat consumed and egg consumption is steady and expected to increase. The term broiler or meat chicken is used by the industry to describe a chicken grown for meat, while the term layer is used for chickens grown and maintained for egg production. Chickens are also affectionately referred to as chooks. There are many different chicken production systems and markets for both chicken meat and eggs.
1.For the broiler industry, include:
(1)Intensive litter furbished sheds
(2)Free-range
(3)Certified organic
2.For the layer industry ,include:
(1)Cage
(2)Barn
(3)Free-range
(4)Certified organic
On top of varied production systems, there are also different diets that appeal to different markets including:
(1)Corn fed chicken meat
(2)Vegetarian eggs
(3)Enriched eggs (e.g. Omega-3)
(4)Industry definitions
3.Definitions Industry
Broiler is an American word used to describe a meat bird such as chicken, turkey, or duck.
(1)Chick refers to a baby bird.
(2)Chicken can be used when referring to young birds, the entire fowl species or the meat that is eaten by humans.
(3)Chook is Australian & New Zealand slang for a hen, or a cooked chicken.
(4)Cockerel, cock or rooster are names given to a male chicken.
(5)Hen is the name given to the adult female chicken.
(6)Pullet is the term used for the immature female layer.
(7)A spent hen is one that has finished its productive life.
4.Production Backyard
Many chicken farmers and some suburban householders still like to keep their own poultry for egg and meat production. Most buy commercial crossbred hens at the point of lay and keep them in semi-intensive conditions in the yard. Some use small colony cages or even use a few layer cages in a protected spot. Others buy day-old chicks and rear their own birds.
Hope this aritcle can help you know more about poultry farming, if you want to build your own 300-400kg/h small scale chicken feed mill plant equipments, please contact Richi Machinery.