How to start 1-40 ton per hour ce complete low investment rice husk wood pellet production plant and process?
2021-01-11 Back to List
If you are looking for related products or have any other questions, please feel free to contact us.
Contact Us
1.Introduction of rice husk pellets
Rice husk is a layer of husk outside of rice, which is a surplus product of rice processing enterprises. In the past, rice was mainly used for direct boiler combustion, or after pulverization, it was burned in boilers or used as feed additives. At present, more rice husk processing methods are through advanced pressing technology to compress the rice husk into a certain size of pelletized biomass fuel, which has high calorific value, good strength, low pollutant content, stable performance, and turbidity. it is good.
In the past, rice husk was regarded as a kind of crop waste. Now, it is pressed into biomass pellet fuel by rice husk pellet machine. Compared with wood product scraps, orange stems and other materials with large particle size and high moisture content, the processing does not require crushing and drying. The dry section has the characteristics of short processing route and low cost, and rice husk has become the first and ideal raw material for making pelletized biomass fuel.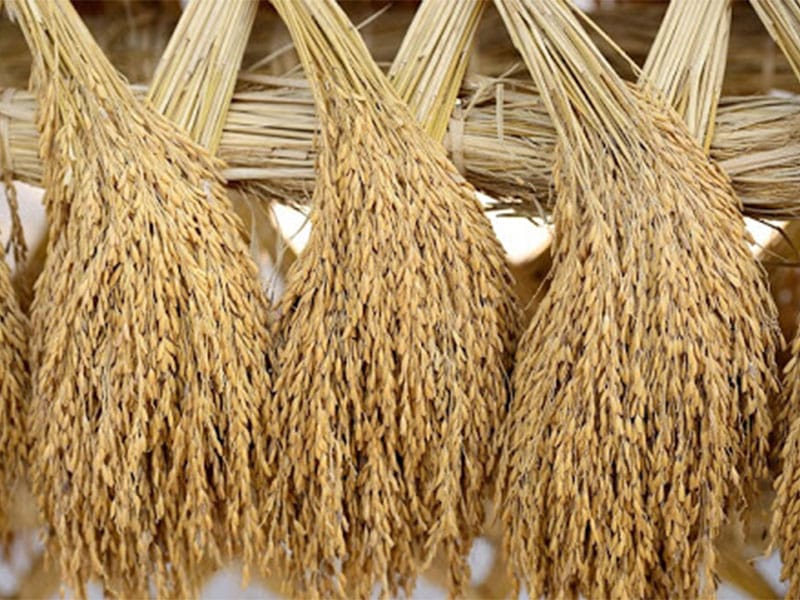 2.Situation analysis for 1-40t/h rice husk pellet production
The rice husk pellets every day gain a more important place in the preference and respect of the markets; Ideal as a source of renewable alternative energy to non-renewable fossil fuels, which makes it especially attractive in a world where ecological measures have become somewhat trendy.
The burning value of rice husk particles is generally around 3500. The business of rice husk pellets is highly recommended. First, because rice husks are relatively cheap, many farmers sell rice husks cheaply. Second, because the rice husk is rich in raw materials, there will be no shortage of raw materials. The third reason is that the processing technology of rice husk pellets is very simple, and the pelletizer is generally only needed for small output.Whether the material has been crushed or not , it can both produce rice husk pellets very well. Just a little difference with the final capacity. The capacity will a little bigger if the material after crushed. Now the market demand for pellet fuel is relatively large. We suggest to choose our ring die type biomass wood rice husk pellet machine for making rice husk pellets. The final result is better compare the other type wood pelletzier machine.Rice husk pellet fuel is relatively easy to burn, and the price is not high, so it is very popular.
If you are planning to start making your own pellets from rice husk or rice straw, and need some more suggestions and guidance. Don't hesitate to send us an inquiry and tell us your capacity requirement, then we can help your choose the most suitable and cost effective rice husk pellet making machine.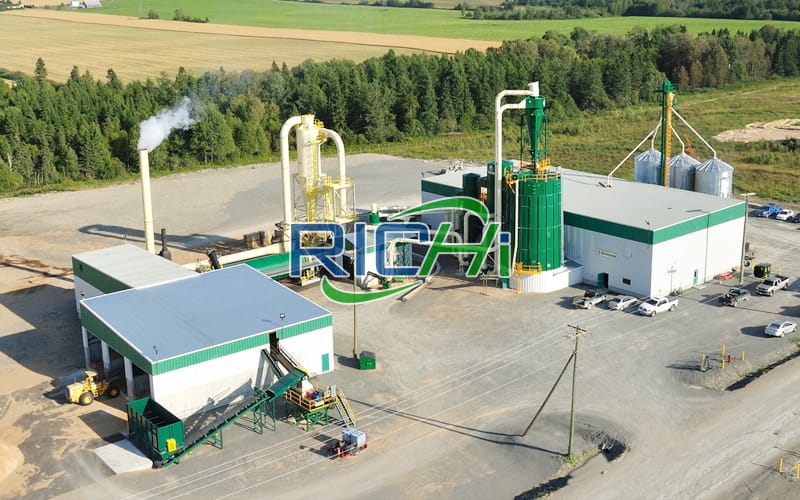 What is needed to start a 1-40tph rice husk pellet processing plant for fuel pellets?The production processes and machines of rice husk pellets usually includes:
(1)Rice Husk Crushing (optinal): To optimize the production of granules as much as possible, it is suggested to reduce the size of the rice husk. For this section,rice huask hammer mill crusher machine is the equipment needed.
(2)Pelletizing: There are MZLH series ring die rice husk pellet manufacturing machine for biomass fuel pellets production with 300kg/h-5t/h. Ring die biomass pelletizing machine for rice husk pellets is the equipment needed.
(3)Cooling:The pellet cooler is mainly used to cool and screen the rice husk particles at high temperature after granulation, and the moisture reduction rate is not less than 3.5%. After cooling, the temperature of the rice husk is not higher than the outside temperature by 5°C.
(3)Packing (optional): Packing is included in most medium to large scale rice husk pellet production line.
Richi Machinery, a China biomass pellet production line manufacturer,has an excellent technology and experience in the matter when pelletizing rice husk. We can offer both single rice husk pellet mill for small scale use and turnkey project plan for complete biomass fuel manufacturing line of rice husk pellet production.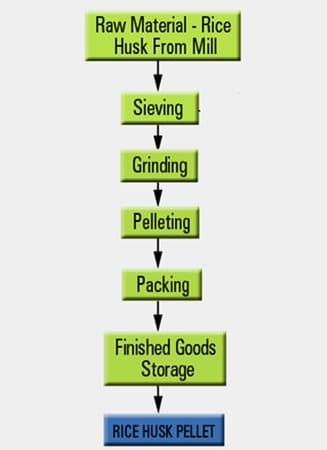 4.1-40 Ton per hour rice husk pellet maunfacturing plant project cost
Cost of setting up a complete ce high quality rice husk pellet production plant is usually between 60000USD-5000000USD.
5.The Potential of Rice Husk in Manufacturing Biomass Fuel Pellets
After maize, the second highest grain production place in the world is rice. Rice is an essential part of the diet of a large part of the world's population. Especially in Asia, where many people consume it daily, also in Latin America and in certain places in the Middle East.
Milled Rice Production by Country in 1000 MT

Rank
Country
Production (1000 MT)

1

China

142,200.00

2

India

109,000.00

3

Indonesia

37,300.00

4

Bangladesh

34,700.00

5

Viet Nam

29,069.00

6

Thailand

21,200.00

7

Myanmar

13,400.00

8

Philippines

12,350.00

9

Brazil

8,024.00

10

Japan

7,600.00

11

Pakistan

7,400.00

12

United States

6,695.00

13

Cambodia

5,500.00

14

Nigeria

3,780.00

15

Korea, Republic Of

3,730.00

16

Nepal

3,330.00

17

Egypt

3,300.00

18

Sri Lanka

2,631.00

19

Madagascar

2,304.00

20

Peru

2,180.00
The difficulties in the biodegradability of the rice husk prevent that 70% of the more than 100 million tons of rice husk produced around the world are properly used, remembering that the weight of the rice husk represents the 20% of the weight of the rice. According to several studies, the world demand for paddy rice, by the year 2020 has reached 780 million tons and will continue to produce rice husks per ton with a tendency to continue wasting in the absence of a solution. Due to the increase in rice planting, at the same time, the rice husk has become an economic alternative to generate income for the planter.
Typical rice husk properties analysis

Bulk Density (kg/m3)

96-160

Length of Husk (mm)

2.0-5.0

Hardness (Mohr's scale)

5.6-6.0

Ash (%)

22.0-29.0

Carbon

≈35.0

Hydrogen

4.0-5.0

Oxygen

31.0-37.0

Nitrogen

0.23-0.32

Sulphur

0.04-0.08

Moisture

8.0-9.0
High Caloric Value of Rice Husk
In comparison with wood, rice husks are also an effective material in terms of combustion. Normally, rice husks tend to be used as combustion materials due to the caloric value they contain. Estimated at 14 MJ I kg, this value is equivalent to 35% of that contained in the diesel or the well-known "bunker oil", which at the same time has a caloric value of 40.5 MJ I KG.
Comparison of Rice Husk, Rice Straw and Wood in % (d.b.)

Property
Rice Husk
Rice Straw
Wood

Carbon

38.7

37.7

48

Hydrogen

5

5

6.5

Oxygen

36

37.5

43

Nitrogen

0.5

0.6

0.5

Sulphur

0.1

NA

NA

Volatile Matter

64.7

69.7

85

Fixed Carbon

15.7

11.1

13

Ash

19.6

19.2

2

6.Rice husk pellets as ruminant animal feeds
Rice husk fermented feed is based on rice husk, adding proper amount of rice bran, cellulose decomposing yeast, seed koji, and ammonium monobasic phosphate, after fermentation and saccharification, it can process ideal feed.
The specific method is: add 20kg of rice bran, 3kg of ammonium monohydrogen phosphate, 30kg of water, 50kg of seed koji and 100g of cellulolytic enzyme to 100kg of rice husk powder, stir it well, and then place it in a room with a temperature of 30℃ for 48 hours , You can get 145kg of fermented feed. This feed has a high amount of protein and alkali nitrate compounds, good palatability, and fast weight gain. It can be used as feed for livestock.
Reasonable use of rice husk raw materials
The nutrient content (%) of rice husk is: water content is about 12%, crude fiber is 35-45% (the crude fiber content of rice husk produced by different mature rice is different), lignin is 21 to 26%, and crude protein is 2.5~ 3%, 16-22% polypentose, 13-22% ash, 0.44% calcium, 0.09% phosphorus, digestive energy and metabolizable energy are all negative.
Therefore, the main chemical components in rice husk are crude fiber, lignin, polypentose, etc., which account for more than 80%.So it's suitble for ruminant animals,like cattle,sheep,etc. For monogastric animals, they are indigestible components, and even though it contains 3% Crude protein, but mostly non-protein nitrogen, and surrounded by cell walls and lignin, can hardly be digested by animals. At the same time, rice husk contains about 20% of ash, most of which is silicate, which affects the digestion and absorption of animals. Anti-nutritional factors are not conducive to the digestive system of animals. Therefore, rice husk is of extremely low use value for the breeding industry. If it is not treated, it is not recommended to be used in the breeding industry. The digestibility and absorption rate of other feeds.