Best price small capacity 1-2 ton/hour complete agriculture waste pellet production plant for sale
2020-09-29 Back to List
If you are looking for related products or have any other questions, please feel free to contact us.
Contact Us
1.1-2 ton per hour on selling good complete agriculture waste pellet line introduction
With the need of renewable energy resources increases, more people start to be interested in biomass pellets as they are eco-friendly, especially for agricultural countries. As a result, biomass pelletizing plant becomes welcomed by farm owners amd investors.Today we will talk about small capacity 1-2 ton per hour complete agriculture waste pellet production plant.
The 1-2 t/h biomass agriculture waste pelletizing plant can make stick shape pellets of different diametrs from wood waste and agro-forest waste.
(1)Raw material for 1-2 ton per hour best solution biomass wood pellet line for agriculture waste: Groundnut-shell,Sugarcane bagasse,Caster Shells/Stalk, Saw dust,Coffee Husk,Paddy Straw,Sunflower Stalk,Cotton Stalks,Tobacco waste Mustard Stalk, Jute waste,Bamboo Dust,Tea waste,Wheat Straw,Palm husk,Soybeans husk,Rice Husks,Forestry wastes,Wood Chips and many other Agro wastes.
Any type of Agro-Forestry waste can be used. But the moisture content should be Less than 10-25%, grain size is below 5×5mm.
(2)Characteristics of China professional 1-2 ton per hour agriculture waste biomass wood pellet line
①No binder needed during production to make clean & green fuel pellet.
②The heat value of final product is 500-1000Kcal, which is higher than that of raw material.
③Can replace firewood and liquefaction gas with less investment.
④Small cubage and easy for transport
⑤Make different biomass pellets by one set of machine (with different dies).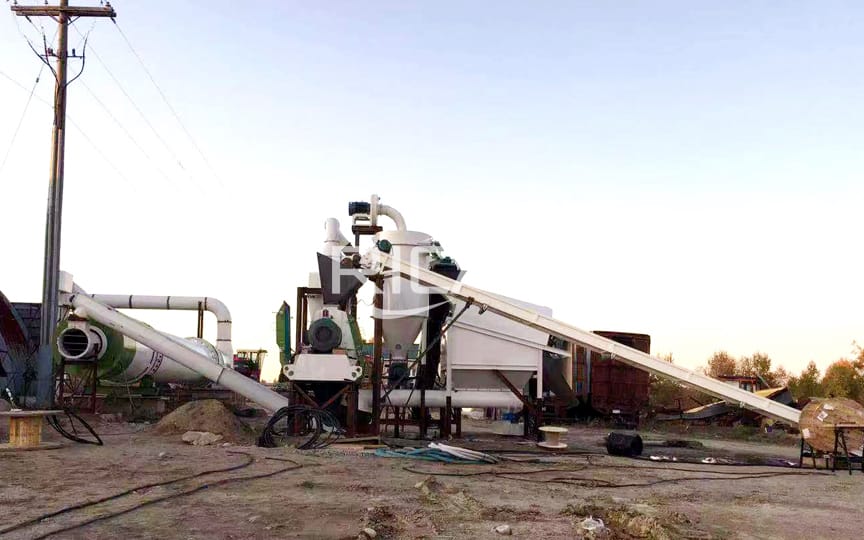 2.Factory supply 1-2 ton per hour customized biomass wood agriculture waste pellet line pellet manufacturing process
(1)Agriculture waste crushing process
The new technology agricultural wood chips crusher in this agriculture waste pellet manufacturing process is equipped according to the specification of the raw material, you can choose the machine based on the type of material.
(2)Agriculture waste drying process
The ce pellet machine for agriculture waste is very strict for the moisture content of the particles before making pellets, the moisture had better ranges in 15%-20%. If the moisture is too high, the material should be dried by good quality agriculture waste rotary drum dryer. The material with high moisture is hard to be formed, so, the material moisture must be controlled well before pelletizing.
(3)Agriculture waste pelletizing process
Pelletizing section plays the most important role in a complete set wood pellet line for agriculture waste pellets. Thus, this part requires more strictly, the conveying machine, stock bin, feeding machine are required to be unified with each other to get the best effect. Biomass energy agriculture waste sawdust pellet making machine manufactured by RICHI, with high biomass pellet production capacity, low abrasion, stable running, each performance getting the domestic leading level. With automatic lubricating system is equipped, the China supplier offer wood pellet machine for agriculture waste pellets is able to rotate for 24 hours continuously.
(4)Agriculture waste packing process
The last processing is packing. For home use, the wood pellets can be stored dry place. For sale, the bagging machine is suggested for packing.
3.Small sale low investment high return 1-2 ton/hour agriculture waste wood pellet line price
The above content shows the complete standard production line process, but maybe it is not necessarily what you need. We can customize the production line for each customer, no matter what your budget is.The factory price of 1-2T/H easy operate ce agriculture waste pellet line is usually between 100000USD to 400000USD.
4.Small 1-2t/h ring die agriculture waste pellet making line flow chart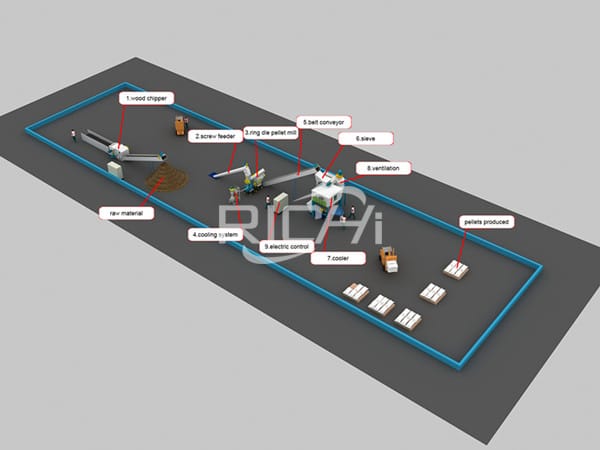 You can directly consult Richi Machinery for more questions about "5 ton per hour agriculture waste biomass wood pellet line""agriculture waste wood pellet plant investment cost""agriculture waste wood pellet production process pdf""agriculture waste equipment needed to make wood pellets""advanced high efficiency pelletizer with acacia wood price""industrial agriculture waste wood processing by products as potential sources of animal feed",Email: enquiry@cn-pellet.com,Whatsapp/Cel: +86 185 7410 3366